ADVANCED MAPSS™ TECHNOLOGY
Advanced MAPSS™ is a next generation optical flow cytometry technology used by the Alinity h-series of hematology analyzers. Alinity hq relies on optical flow cytometry, fluorescent flow cytometry and spectrophotometry to measure CBC and reticulocyte parameters; no other measurement principles (such as impedance) are utilized.
Advanced MAPSS™ technology focuses on improved discrimination between RBC and PLT, which, despite the notable progress that has been made in PLT measurement methods, still poses a challenge for many technologies when it comes to discriminating PLTs from similarly sized non-platelet events.1
Another feature of advanced MAPSS™ is to provide information on RBC size and HGB content on a cell-by-cell basis. This advancement is made possible by the introduction of three narrow angle light scatter detectors in addition to the traditional MAPSS™  detectors (ALL, IAS, PSS and DSS). These narrow angle light scatter detectors, IAS1 (2.5-4.5°), IAS2 (4.5-5.5°) and IAS3 (5.5-7.5°), generate a unique light scatter profile for each cell that estimates the HGB content, cell volume and granularity.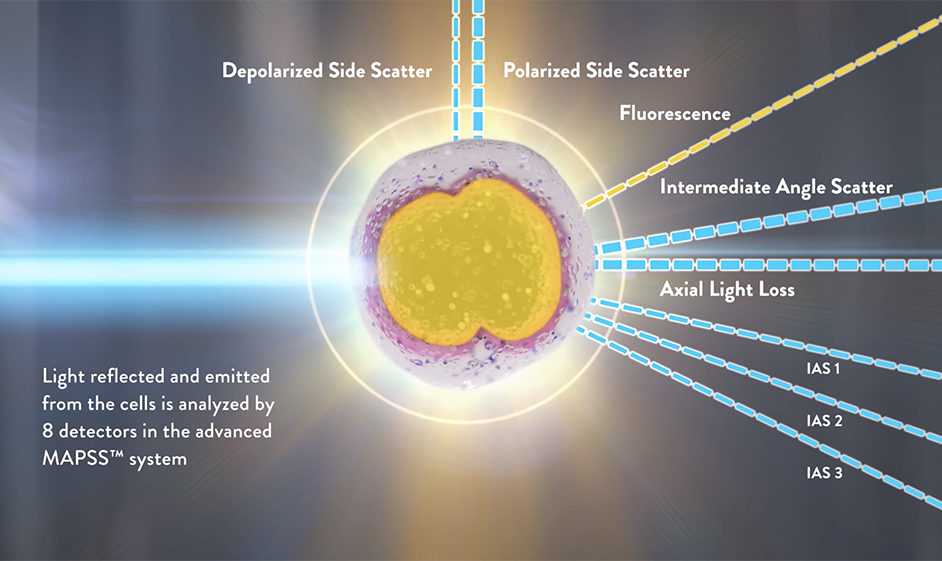 Detecting scattered light with these high-resolution detectors allows for the use of the Mie theory.2 According to this theory, monochromatic light scattered at two different forward angular intervals permits simultaneously determining the volume and the HGB concentration of each cell.2,3 After the Alinity hq RBC reagent triggers isovolumetric sphering of RBCs and PLTs, thereby eliminating the shape and orientation dependence of light scattering, the analyzer measures volume and HGB concentration of each RBC by using the IAS2 and IAS1 channels. The IAS3 signal is used to assess PLT granularity and enhance PLT and RBC separation. The measurement of HGB concentration at the single cell level allows for calculating the whole blood HGB concentration, and using the comparison of the measured and calculated HGB concentration for the detection of the presence of interfering substances and compromised sample integrity.
An FL1 fluorescence detector is used in addition to the optical light scatter detectors for identifying nucleated cells (WBC and NRBC) and for Reticulocyte and related parameters measurement.
WBC measurements by the advanced MAPPS™ technology provide a 6-part WBC differential: neutrophil, eosinophil, and basophil granulocytes, lymphocytes, monocytes, and immature granulocytes. In addition, NRBC are also detected and enumerated along with the WBC differential.
INSTRUMENTS THAT UTILIZE ADVANCED MAPSS™ TECHNOLOGY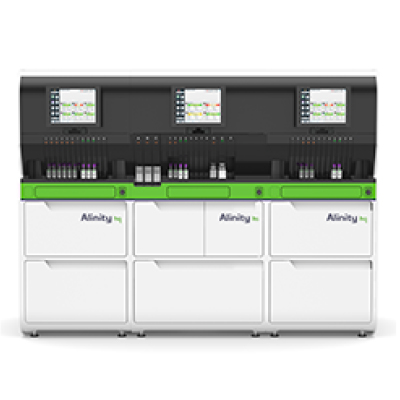 Access online product training, operator's manual and other Alinity
h-series
training & educational content.
FEATURED CONTENT
Alinity h-series is available in select countries, not including the US.

1. Marionneaux S, Francisco N, et al. Comparison of Automated Platelet Counts and Potential Effect on Transfusion Decisions in Cancer Patients. Am J Clin Pathol. 2013;140:747-754.
2. Mohandas N, Kim YR, et al. Accurate and independent measurement of volume and hemoglobin concentration of individual red cells by laser light scattering. Blood. 1986; 68 No. 2:506-513.
3. Tycko DH, Metz MH, Epstein EA, Grinbaum A. Flowcytometric light scattering measurement of red blood cell volume and hemoglobin concentration. Appl Opt. 1985 May 1;24(9):1355-1365.